Bill Boyer @KNEBBill
Market Manager bboyer@ruralradio.com
I am a Mullen native, and claim to be one of the 700 most popular people to grow up in Hooker County in the 1980s (no small task!) After a stint in the Alliance, I moved to Bridgeport where I graduated high school and met the love of my life, Reagan. After graduation, I went to Kearney and graduated from UNK in 2000 and married my high school sweetheart in 2001. My first and only son, Seth, was born in 2005. He continues to be an inspiration to me every day! After spending years in radio in Kearney, I dabbled in the world of city government (what was I thinking?), moving back to Bridgeport in 2008 to be the City Administrator. I was hired in 2011 as the Director of Operations at KNEB. It is truly a blessing to work for such an amazing organization! As you can guess, I am a weather nut, love technology, and love to golf. As a parent of an autistic child, I have become a strong advocate for autism spectrum awareness. I'm proud to volunteer for several local organizations, including Special Olympics and the United Way of Western Nebraska.
Doug Southard
Sales Manager dsouthard@ruralradio.com
I was born and raised in Kimball, Nebraska. Growing up, I was involved in every possible sport available and was a three year letterman in Football, Basketball and Track and also played baseball in the summer. After graduating in '85, I attended Chadron State College and majored in Business Administration with a minor in Psychology. College is where I met my wife, Kim, and married August 4, 1990. We moved to Gering and that is where we raised our two children, Nathan and Kelsey. We now have two wonderful grandsons, Easton and Cayson. I worked in the newspaper industry since 1990 as the Advertising Director with the Star-Herald and News Media, Inc. In November 2019, I joined the Nebraska Rural Radio Association team and am really enjoying the new opportunity. I love western Nebraska and how generous and caring our communities are. In my spare time, I love to hunt, fish, play golf, watch Husker football and spend time with my family.
Nikolas Chizek @mylifeasnik
Program Director nchizek@ruralradio.com
I am a grad of Bridgeport and WNCC and I've been at KNEB since I was fresh out of high school. I have enjoyed doing many things at the station; starting out with running the board for sporting events, creating commercials, and now running the programming department. I have a wife, Karissa; and a beautiful and fiery daughter, Ellie. My favorite hobby is to play video games (I get made fun of for this) and to play disc golf (also get made fun of). I enjoy the Scottsbluff area and hope to be around for many, many years.
Scott Miller
News Director smiller@ruralradio.com
Chris Cottrell @offaironpoint
Sports Director ccottrell@ruralradio.com
Chabella Guzman
Farm Director cguzman@ruralradio.com
A Panhandle native, I graduated from Scottsbluff High School in 1985. Attended and graduated from the University of Nebraska-Lincoln in 1990 with a degree in Broadcast Journalism. Since graduation, I have lived in four states and worked in everything from retail to a fish packing company. I moved back to Scottsbluff in 2001, worked at Orcom Solutions, WPCI and finally put my degree to work at the Star-Herald, where I was a reporter/photographer. I tried my hand at owning my own business with the purchase of the Mitchell Index in 2014, unfortunately, it didn't work out. I was fortunate in 2016, to land a position with KNEB as the Farm Director. I enjoy being part of the community and volunteer with the Midwest, the Monument Marathon, I'm a member of Western Nebraska Agri-Women and the Scottsbluff/Gering United Chamber of Commerce Agri-Business Committee.
Dave Strang
Announcer; Assistant News Director dstrang@ruralradio.com
Started broadcast career in 1978 at KBRL in McCook. Worked at KFNF in Oberlin, Kansas for 10 years, with two years spent at KAPZ in Searcy, Arkansas. Moved to Scottsbluff in 1991 with KNEB, and aside from 5 years at the former Tracy Broadcasting, has worked as announcer, production director, and has been working in KNEB's award winning News Department since 2007. Served as tank gunner (11E30) in Nebraska Army National Guard (A-1/195) from 1977 to 1982. Avid supporter of Employer Support for the Guard and Reserve (ESGR) and works as military advocate for all service branches. Principal hobby and interest is aviation. Serves as Chapter Secretary for Experimental Aircraft Association (EAA) Chapter #608.
Ryan Murphy
New Media Coordinator; KNEB.tv News Anchor rmurphy@ruralradio.com
Ryan has been able to call the Panhandle home since 2008. As an east coast native, he is pleased to be able to enjoy all the amenities that "The Good Life" has to offer. When he isn't working on stories for KNEB.tv, he enjoys golfing the bountiful golf courses that the region has to offer, catching a good live concert, and cheering on the Red Sox and Patriots. Ryan and his wife Audrey also enjoying spoiling their dog Bella on a daily basis.
Karen Schmer
Traffic Director kschmer@ruralradio.com
Amanda Mendoza
Traffic Director amendoza@kneb.com
I was born and raised in Western Nebraska. I am a proud Nebraskan, like most a diehard Huskers fan. I have worked in the Mortgage banking and Insurance services for most my career. I am excited to start a whole new chapter to what I'll call home. I am passionate about promoting a sense of community and have volunteered or helped organize events in the area. I am a strong believer in hard work and love the opportunity to contribute to a team. Of course with a heavy dose of humor, when needed. My family is my life, their unwavering support is what keeps me going. I love being with my nephews and niece learning life through young eyes, or at a game rooting on our young ball players year round!
Kendra Feather
Promotions Director/Sales Representative kfeather@ruralradio.com
I have been with KNEB radio going into my 20th year, starting out as a sales executive, and then adding assistant to the sales manager and in 2008 became the Sales Manager and in charge of promotions, and for the last 17 years I have been the co-chair of Thanksgiving in the Valley, that KNEB has been in charge of for over 35 years. I was raised on a small acreage outside of Hershey, Nebraska, and with my family being in construction had to move where my dad's job would take us, so lived in Spearfish, South Dakota for a bit, then back to Hershey, and then got to go to Victory Hill country school when my dad came to Scottsbluff to build the Scottsbluff Country Club, then back to Hershey where I graduated and went on to Mid Plains Community College in North Platte. I have worked in several forms of media, including newspaper sales, mail room, flying off the press, circulation and direct mail, and even writing sports. I lived in Arizona for 10 years working at a couple different publications, then in 1992 moved back to Scottsbluff, worked at the Gering Courier, Star Herald and started with KNEB in January 2000. So for close to 30 years I have been selling some form of media. I am married to Brian Feather who is a HVAC Technician for Johnson Controls, and we also have a small business of our own, ARC Services. We have four children from our blended family, and 7 grandchildren. I am also lucky to be involved with several charities in the area like the Scotts Bluff County Volunteer Center, Festival of Hope, BPW, (Woman of the Year in 2014), Octoberfest Revived, Vice President of Lucky Strike Bowling League, SBCC Ladies Golf Association, Scottsbluff Gering Chamber Board and Agribusiness Committee. I have also had the opportunity to help with several fundraiser in the community which I enjoy. I have gotten to see a lot of changes in the industry over the years that I have worked here, but have had a great opportunity to work with some of the best in the industry and meant so many people along the way that I not only consider clients, but also friends.
TJ Albright @TJAlbright2
Announcer/IT Assistant talbright@ruralradio.com
I am a Scottsbluff High School Graduate from the class of 2017. I have been working at KNEB since January of 2017. I am the producer for KNEB.TV sports and work with part timers on Boar Operations for sporting and live events. My new roles in the Rural Radio Family will include On-Air Talent, Video Editing, and other various duties. I am excited to see what happens in the future here at KNEB.
Steve Kjos
Announcer skjos@ruralradio.com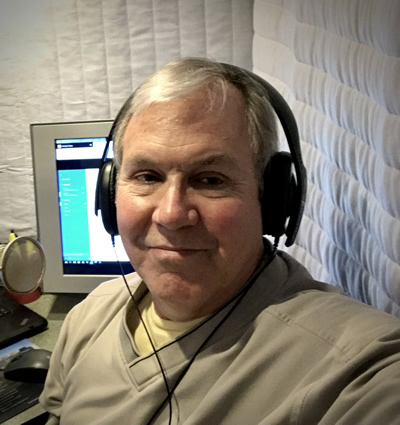 Kevin Cooper
Mornings on KMOR kcooper@ruralradio.com
Coop's professional broadcasting career began as a voice-over announcer at a commercial station in Illinois, while he was a student at Western Illinois University. After working in radio in Illinois and Iowa, he came to Omaha, eventually handling morning drive at two stations. In 2003 he left radio to pursue business opportunities, which would take him to locations around the world. In 2017, Coop was lured back to broadcasting to be a part of the Rural Radio Network. He says, "I am absolutely thrilled to be back on the radio. Thank you to everyone in Nebraska and the RRN for making me feel like I never left!" In between his radio and voice- over career, Coop and his wife Lora are active in their church and love spoiling their three children and three grandchildren.
Cami Lee
Announcer/Sales Representative clee@ruralradio.com
I started working in radio in 2013 as a Sales Representative after working for 7 years as a License Massage Therapist. A little bit of a change, huh? After 6 months, I was offered a position co-hosting a morning show on weekdays that broadcasted on two stations. Over the years, many changes have occurred but I still remain the host on the morning show on one of the stations and continue to work in sales. I have had many on air shifts across Top 40, Classic Rock, Active Rock, Top 40 Country, Light AC, Hot AC and CHP formats. I have also worked as a Promotions Director, done production and even spent some time in concert promotions. Many people ask me what my favorite part of the job is and my answer is hands down getting out in the public and interacting with our community!
Cardell Mackrill
Production Director cmackrill@ruralradio.com
I was born in Rio Rancho, New Mexico, and grew up in the panhandle of Nebraska. I graduated from Bayard High School with the class of 2012. Before I got started in radio, I worked for a tree service out of high school, until a position opened at a local radio station. I love rock'n'roll, producing commercials, and talking to our community!
Lana Green
Afternoons on 94.1 The Brand lgreene@ruralradio.com
Tricia Strauch
Sales Representative tstrauch@ruralradio.com
I was born and raised in the Panhandle - a 1991 graduate of Gering High School (Go Bulldogs!). I recently moved to a country home outside of Stegal, NE with my husband, Alan. I have worked in sales at KNEB since 2013. My husband is an electrical contractor and owns his own company. I have 2 sons, Nick and Brock and 2 step-sons, Cody and Tristin. I am active in the Morrill Rotary Club and a graduate of Leadership Scotts Bluff-Class XXVIII. I am also a board member of The Legacy of the Plains Museum and Leadership Scotts Bluff. We love spending time with our family, going to concerts and during football season traveling to Lincoln to watch Husker football!
Kinsey Senkel
Sales Representative ksenkel@ruralradio.com
Hi, I'm Kinsey Senkel. I grew up in central Illinois where I earned my undergraduate degree from the University of Illinois at Urbana-Champaign in Animal Science, Pre-Vet. I then proceeded to live out my dream of "going west." I finished up my masters at Colorado State in Integrated Resource Management while I applied for vet school. My whole educational journey led me to vet school at Kansas State where, after one semester, I realized that was no longer my dream. So many greater things were in store for me! I since moved back to Western Nebraska, married the man of my dreams, and purchased a little farm! We enjoy working our land and raising animals of all kinds. This is the best lifestyle for us! I enjoy cooking, adventuring, swimming, biking, running, walking, hiking, gardening, and talking to people! My job at KNEB has been the best fit for my personality! Thanks Kendra!
Adam Ostdiek
Sales Representative aostdiek@ruralradio.com
I was born and raised in Gering and graduated from Gering High School in 2008. Which is where I met the best person I know, Sierra. Somehow I talked her into dating me all the way back in 2006. After high school, I attended The University of Nebraska- Lincoln, graduating with a degree in Fisheries and Wildlife. After graduation, I moved to Omaha, and then to Sidney, Nebraska. In 2015 Sierra and I got married and in 2016 our daughter, Sophie was born. She is truly the light of my world! We moved back to Gering in 2017 and we could not be happier! I enjoy cooking, disc golf, camping and most of all spending time with my family. I am an avid Husker, Kansas City Chiefs, and Tottenham Hotspur Fan. I volunteer for several local organizations including Special Olympics and am active in several different rec leagues.